Seattle Hydroseeding is the preferred company to establish a lush green lawn in the Seattle area.

Call 206-400-7866 for instant quote, Guaranteed Results, Seattle Hydroseding offers professional hydro-seeding and erosion control services to residential and commercial customers in King County and Pierce County including Seattle, Renton, Bellevue, Kirkland, Tukwila, Tacoma, Mercer Island, Sammamish, Redmond, New Castle, Kent, Auburn, Federal Way, Sea Tac, Des Moines, Issaquah, Maple Valley, Puyallup, Kingsgate, Shoreline, Lynwood, Edmonds, Ballard, Bonnie Lake, Sumner, Burien
Here's how Hydro-Seeding works

We evenly spray grass seed, fertilizer, tackifier and hydromulch onto your prepared soil. Once your lawn has been hydroseeded, the grass seed and fertilizer are protected by a green layer of hydromulch that seals in moisture and helps prevents rain from eroding the soil and washing away the seeds even on steep banks. Hydroseeding provides the ideal environment for germination. Because the seed was soaked with water in the mix, much faster germination will occur. Hydroseeding allows you to have a lush, emerald green lawn in as little as a few weeks depending on the time of the year. Hydroseed is grown in place to your soil conditions there is never a problem with it not "taking" which can be a problem with sod.


Guaranteed Results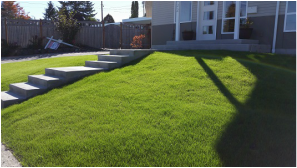 Seattle Hydroseeding warrants that high quality certified ingredients are used in our hydroseed process. If your Hydroseeded lawn does not establish properly, because of product or workmanship, those portions of the lawn that are not growing will be re-Hydroseeded, at NO COST!
Be sure to water, fertilize and maintain your new lawn as directed in our instruction pamphlet. If your lawn is not watered, fertilized and maintained as directed, the warranty is void. Warranty applies to lawns planted between April 1st and October 10th.

The Warranty does not cover a lawn that has not been properly prepared with at least 4 inches of new top soil, that is washed out because of heavy rain fall, lacking proper growth because of lack of fertilizing, or burned because of over fertilizing, using the wrong fertilizer or the improper use of chemicals to kill weeds.
---
Hydroseeding Advantages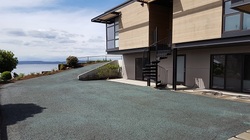 Hydroseeding typically costs less than 1/5 the price of sod. Sod can be expensive, especially when labor is factored in. Hydroseeding requires less installation time and less
material, which means you can have a healthy lawn for a fraction of the cost.
Hydroseeding costs a little more than conventional broadcast or drill seeding. But one needs to remember that hydroseeding includes mulch to protect the seed, fertilizer, and tackifying agents to reduce the likelihood of erosion. Conventional seeding often requires two or three sowings before a lawn is successfully established.

Quality

Hydroseeding results in much healthier grass because the root system develops in the soil from seed. Sod has to be
transplanted and often experiences shock in foreign soil. Additionally, site-specific seed can be used in the mix, including native
grasses, drought tolerant mixes, or "front lawn" blends. This means you get a "custom lawn" instead of whatever the sod farm happens to be growing in a given year. Hydroseeding provides a specially formulated growing medium resulting in
fast germinating, healthy grass. And it is because of this same growing medium that hydroseeded grass has a significantly higher germination rate than grass seeded by traditional methods.

Erosion Control

Hydroseeding is the only method of turf establishment that effectively retains moisture and protects from adverse
weather conditions. This is due to the ingredients of the slurry. Unlike conventional seeding and sod, hydroseeding has
less rigorous watering demands, is more tolerant of wind, and better withstands conditions that lead to washout. For areas where there is significant slope and risk of erosion, special hydromulch such as Bonded Fiber Matrix or Flexterra can be can be used in the slurry to give results equivalent to erosion control blankets.

Hydroseed Applications

Hydroseeding is ideal for new lawns, over seeding existing lawns, play fields, sports fields, pastures, construction sites, erosion control, golf courses, bio swales, wetland restoration. Hydroseeding can be applied easily to slopes and wet, frozen, or bumpy soil and areas that may be inaccessible by conventional means. This means that the window for establishing grass is greatly extended past that of placing sod or seeding by traditional methods. Up to 400 feet of hose can be attached to the hydroseeder to reach remote areas.

---